Banks urged to invest in brand development
Three joint stock banks, BIDV, Vietcombank and VietinBank, are now the country's most valuable banking brands.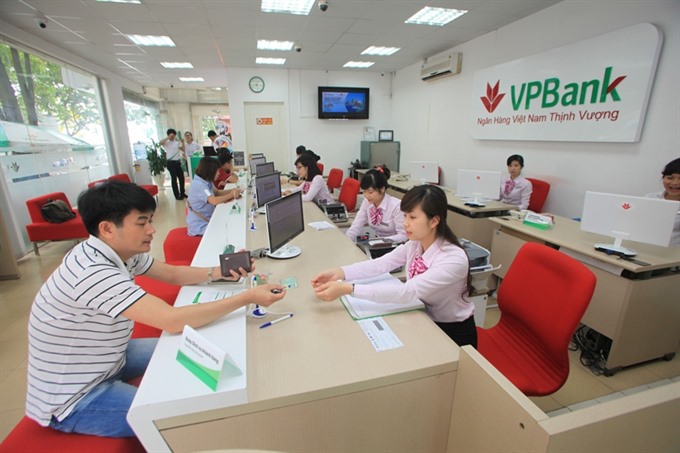 Customers transaction at a branch of VPBank. — Photo vpbank.com.vn
However, despite being the country's largest banks by far, their brand value in monetary terms is very low.
For instance, for Vietcombank, it made up only 4 per cent of its total assets of around VNĐ576.53 trillion (US$25.3 billion) by October 2016.
It is slightly higher for Vietinbank and BIDV at 10 per cent and 11 per cent, respectively.
The comparable figures are 25 per cent globally and 16-18 per cent in Southeast Asia.
Why are Vietnamese banks unable to add value to their brands?
The first and obvious reason is that they, including the major ones, have not paid much attention to investment in building their brands.
They have only managed to grow in the last few years of their familiarity with the marketplace and relationships.
Another reason is that Vietnamese banks still prioritise customers aged 40 and more thinking they have a stable income and accumulated savings.
But it is young people who are familiar with and avid users of digital technologies, virtually a pre-condition for promoting brands.
Experts urge Vietnamese banks to invest in building brands, especially if they want to expand abroad.
Obviously, it will not be clever of the lenders to venture into other markets if they are completely unknown there.
Changes to deposit insurance
The State Bank of Việt Nam has just drawn up draft amendments to the Deposit Insurance Law as instructed by the Government.
One of the proposed changes is increasing the maximum deposit amount that can be insured per customer from the current VNĐ50 million to VNĐ75 million (US$3,290).
Like in most other countries in the world, Việt Nam's deposit insurance policies have two main aims: to protect depositors and secure the banking industry.
Public trust in the banking system is an important commodity and can be significantly improved through deposit insurance policies.
However, the current limit per customer of VNĐ50 million is not satisfactory for most depositors and also many experts who say it is too low.
Accepting this criticism, the SBV intends to hike the limit by half.
But this is not enough of an increase for the public and experts.
Analysts said when the insurance premium limit of VNĐ50 million was fixed, it was equivalent to five times the country's per capita income just like in many other countries. It covered 80 per cent of deposits.
But now the country's current per capital income is over $2,000.
This means that the deposit insurance limit this time needs to be much higher at at least VNĐ200 million.
Experts point out that the new limit is much lower than the 50,000 euro in Europe, $200,000 in South Korea and $250,000 in the US.
They have called for raising the limit to VNĐ150-200 million to achieve the purpose of deposit insurance: protecting depositors' money.
The experts also disagree with having a uniform limit for all banks, saying there is need of higher limits for weaker banks to really protect depositors.
They also want the amended law to require lenders to declare their "health" to depositors to enable them to make informed decisions.
The experts are also critical that only đồng deposits are insured and not deposits in foreign currencies or valuable papers.
They say that deposits in foreign currencies are trending upward because of the large amounts of foreign remittances from overseas Vietnamese and Vietnamese nationals working abroad.
Thus, if banks refuse to insure foreign currency deposits, they would simply move to foreign banks.
Foreign interest in cement
On March 1, Holcim Vietnam was renamed Siam City Cement Vietnam Co Ltd after being acquired by Thailand's Siam Cement City Public Co Ltd (SCCC).
A few months ago, LafargeHolcim Group signed a deal to sell a 65per cent stake in Holcim Vietnam to SCCC for US$580 million.
Holcim products will hereafter be marketed under the INSEE brand.
Recently SCG Cement-Building Materials Co Ltd, a subsidiary of the Siam Cement Group (SCG), bought the shares of Vietnam Construction Materials JSC for $156 million.
The significance of the Thai investors' multi-million-dollar deals is that the Vietnamese cement industry remains very attractive to foreign investors though it is now mired in difficulties.
Analysts said acquisitions were much cheaper for the Thai companies than building their own factories.
Building a new factory in Việt Nam will cost $170-180 per tonne of cement produced.
Acquisitions bring down the cost to $105-110.
Besides, with their financial and administrative advantages, Thai companies can easily take on their Vietnamese rivals.
A construction ministry official said it was inevitable that foreign companies would invest in the Vietnamese cement industry considering the enormous opportunities it offers them.
The strong recovery in the real estate market and the resumption of many major construction projects are an important reason for the rise in demand for building materials.
How do Vietnamese cement companies benefit from these M&A deals?
According to the Việt Nam Association of Finance Investors, one of the many benefits is that Vietnamese cement companies will have access to massive resources to improve their technology and equipment and management and expand export markets by taking advantage of the distribution systems of their foreign investors.
It said further that to attract foreign investors in the cement industry, the Government should remove the foreign ownership cap in the industry, which is now at 49 per cent.
The Việt Nam Construction Association did not oppose the M&A deals by foreigners but nevertheless warned the Government not to allow foreign businesses to take advantage of the current difficult situation in the industry to take over domestic companies.
That would affect the country's interests, it said.
The Việt Nam Materials Association concurred saying the Government should not let Vietnamese cement companies become a mere source of raw materials, energy and labour for foreign companies.
It said local companies should be restructured to become competitive and take control of the market.
Source: VNS
Tags:
Maybe You Also Interesting :
» State banks under great pressure to hike capital
» Peer-to-peer lending gaining traction in VN
» ASEAN free trade to put pressure on Viet Nam