The estuary of rice noodle soups
There is no Vietnamese cuisine without rice noodles. From the humblest nomadic street food vendor and street food stall to the fanciest restaurant you can imagine, if the eatery serves Vietnamese food, it serves rice noodles, mostly as soup.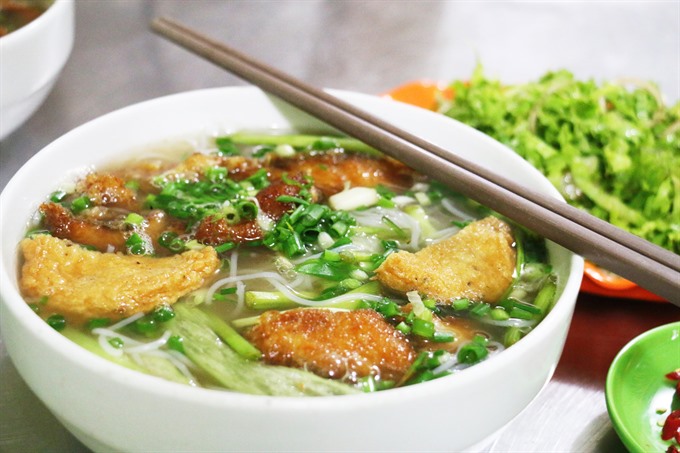 Double treat: A bowl of bún cá in Hải Phòng has two kinds of fried fish. —VNS Photo Hong Van
And when it comes to rice noodle soups, almost every Vietnamese can be said to be a gourmet, able to explain at length why one kind of soup is better at one place, and which ingredient makes a bowl different and more satisfying than another.
It is not surprising then, that the aroma and taste of a bowl of noodle soup differ by region, not just because of ingredients particular to that place, also because the preparation differs.
So what makes a bún cá (rice noodle soup with fish) special in the northern port city of Hải Phòng is the clever combination of seafood and river-food.
Any bún dish is a combination of noodles, broth and meat. If this sounds simple, it is. But to make the dish really tasty, the cook has to be meticulous with the choice of ingredients, the processing and cooking.
There are three localities that are famous for their bún cá in Việt Nam – Thái Bình, Đà Nẵng and Hải Phòng.
In the northern province of Thái Bình, the fish used is the climbing perch fish, which is natural to the place. Fish slices are marinated with seasonings and stir-fried till it becomes brownish yellow, and then put on top of the noodle soup.
In the central city of Đà Nẵng, the "topping" is the crunchy and tasty chả cá (fried minced fish).
Bit of both
Cooks in Hải Phòng use both fried fish and chả cá (fried minced fish) in their bún cá.
However, the chả cá in Hải Phòng is thinner, a bit chewier than that in Đà Nẵng and not as crunchy.
In Hải Phòng, the chả cá is made with mackerel. The fillet is ground, and dill, pepper and turmeric powder added to it. The mixture is then flattened out into small palm-sized patties which are deep-fried till they turn yellow.
"The more meticulous cooks still grind the fish by hand to make sure it is done just right," said Nguyễn Thị Bính, a Hải Phòng native.
For the fried fish, "mrigal carp fish or grass carp is preferred as they don't have the 'fishy' smell of sea fish, and their flesh is fresh and juicy, very suitable for noodle soup," said Bính.
The fried fish and fried minced fish pieces are dipped for an instant in boiling water before they are placed on top of the white noodle in the broth which has the sour taste of tamarind.
"And you will miss an important part of Hải Phòng cuisine if you do not add chilli sauce in the soup," said Bính.
bún cá of Hải Phòng is also known as bún cá cay (spicy noodle soup with fish) and served with fermented bamboo shoots.
Crab hotpot
Although it seems a counter-intuitive dish to have in the scorching heat of a harsh summer, the lẩu cua (crab hotpot) is definitely worth a try when you are in the port city.
The hotpot never fails to impress diners with its broth, which has a thick texture and the reddish-yellow colour of crab meat and tomato. And they also fall for the dish at the very first sip of the broth, which carries the natural sweet taste of crab meat and has a pleasant aroma.
The crab hotpot is also accompanied by a generous portions of chả cá, the Hải Phòng specialty, tofu, beef, pork rib, giò (minced pork ball), lòng tràng (pig's small intestine) and vegetables like banana's flower and water spinach.
Different varieties of noodles, vermicelli or bánh đa (brown flat rice noodle made in Hải Phòng), a signature ingredient of the port city, is also served with the crab hotpot. VNS
Bún cá is served at:
Hải Phòng:
66 Lê Lợi Street.
21 Trần Phú Street.
193 Văn Cao Street.
72 Lê Lai Street.
Hà Nội:
87 Núi Trúc Street.
164 Ô Chợ Dừa Street.
77 Đường Thành Street.
42 Hàng Đậu Street.
Lẩu cua can be found at :
Hải Phòng:
188 Văn Cao Street
Hà Nội:
36 Nguyên Hồng Street.
Served hot: Broth is poured into the mixture of rice, noodles, fried fish and fried minced fish. —VNS Photo Hong Van
Appetizing hues: The crab hotpot grabs the attention of diners with its colourful broth. —Photo momkitty.com
Source: VNS
Tags:
Maybe You Also Interesting :
» Savoring special Nha Trang vermicelli soup
Some tourists say a trip to Nha Trang, a resort city on the central coast, will not be complete without having a bowl of bun ca sua, a type of rice...