Swim Safer Week teaches kids in HCM City
The first Swim Safer Week began in HCM City on Thursday at pools in Trần Văn Ơn Primary School in District 1 and Renaissance International School Saigon in District 7, attracting more than 500 children.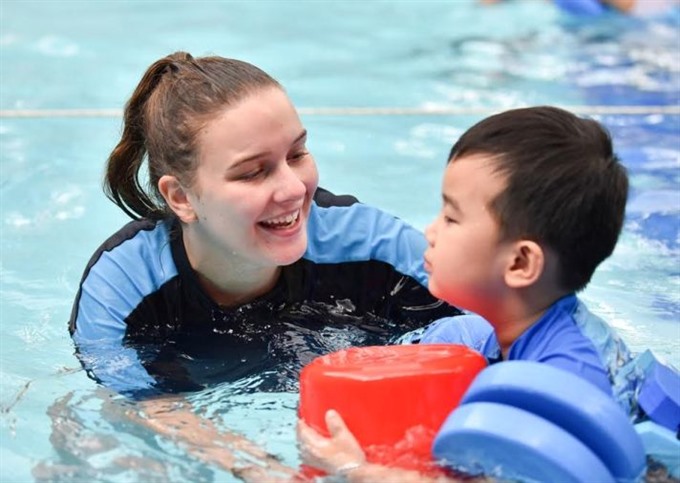 A teacher from Australian swimming school Paul Sadler Swimland teaches a child swimming at the Swim Safer Week organised in HCM City on Thursday. — Photo paulsadlerswimland.com.vn
The programme is organised by Paul Sadler Swimland, an Australian swimming school which has 15 branches in Australia, Canada and Việt Nam.
Joanne Stewart, director of the school, said the programme aims to teach participants two essential things: basic swimming and water safety skills for kids.
During the week Australian teachers will teach the children how to swim and rescue themselves as well as others in emergency situations.
The programme will be held every three months for the children who are participating in the training classes at the schools.
Paul Sadler Swimland will co-ordinate with other schools to expand the programme in the city and surrounding areas.
According to the Department of Child Protection and Care, 30 children have drowned to death around the country this year.
Drowning is the second most common cause of death after road accidents in the country, and is estimated at around 10 daily.
Source: VNS
Maybe You Also Interesting :
» Downtown HCMC parking lots overloaded
» Giant European theme bookstore opens in HCM City
» Property brokers turn developers in HCM City